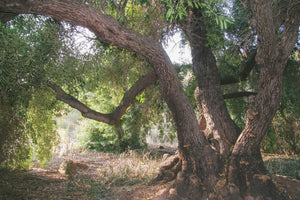 Our Consulting Services
Our expertise when it comes to olive tree cultivation and maintenance is unparalleled in the region. Ojai Olive Oil's management has been working with olive trees and making olive oil for generations.  Here on our farm in Ojai, our core grove care staff have over 100 years of combined experience working with olive trees and making world-class extra virgin olive oil. We have both a Master Arborist and Master Miller heading up our teams. Whatever your question or needs, we will either have the solution or know where to find it.
We are able to consult on many issues, including grove planning and setup, proper irrigation, fertilizing, pest control, organic farming, regenerative agriculture / biodynamic / permaculture farming, proper tree pruning, tree health & problem solving, olive harvesting, olive oil milling, and more. We can also work with you on envisioning your operational finances, and getting a feel for the numbers when it comes to growing olives. We are able to provide both consulting & advisory services, as well as on-site labor - whatever you need.
Grove Setup
Rehab a neglected grove or start a new one, we can help you get it done. Starting a grove of olives from baby trees or taking stewardship of a heritage grove can be a wondefully satisfying endeavor.
Nursery
We cultivate unique olive varietals oursleves, and work with dozens of other nurseries, to get whatever you need. From a single tree to 1,000, groves to landscaping, we can get any olive tree for any place.
Pruning
Pruning olive trees is a crucial part of the annual calendar. The practice of selecting which branches will form the tree for generations to come is an art form. Let our experience guide your hand.
The Importance of Pruning
We like to prune from the very inception of a grove, to slowly craft its shape, working each year to slowly build towards perfection.  Sometimes, however, we need to step into an older grove that's long been neglected, and bring it back from the brink.
Harvesting & Milling
We can help you pick your olives, and we can mill them into olive oil for you. We work with the region's best picking crews, and can handle groves of any size. We also have the good fortune of running the Ojai Valley's only two olive mills, which gives us lots of bandwidth come milling season. We're able to accomodate any size crop, from multi-day runs of many tons, to just a bucket full from your garden. Talk to us come milling season, and we will make sure you get the most out of your olive trees.
Contract Harvesting
Picking can be arranged for a grove of thousands of trees, or a yard that has just a few. Tell us about your olive trees, and we'll help get them picked!
Contract Milling
With two mills running all season, we have a solution for any milling need. From truckloads to bucketfulls, we can help you get liquid gold from your olives.