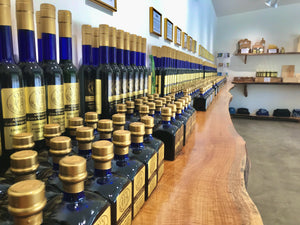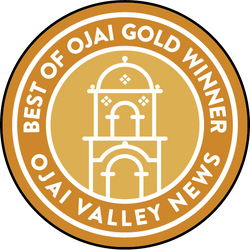 Voted best tasting room in Ojai
12 years in a row!
Tastings at our Farm
Monday - Sunday: 10am - 4pm
There's room for everyone, and you do not need reservations. If you want to visit us on a holiday, odds are we'll be open, but please call to check first.
get directions
Ojai Farmers Market
Sundays: 9am-1pm
You can also find us on Sundays in downtown Ojai at the Ojai Farmers Market, from 8am-1pm at 300 E. Matilija Street.
get directions
Find our farm
After you turn onto Ladera Road (off of Thatcher Road), stay to the left when the road forks. You will seem to be going off Ladera Road and onto Hermitage Road at the first fork, but that is the correct way. At the second fork you will bear left again, away from Hermitage Road and back onto another section of Ladera Road.

After you cross the creek at that second fork, you will be on your way up into our little valley. Shortly after you start to see olive trees you will see the sign for Ojai Olive Oil. You can park anywhere in the designated zones around that sign, and then head towards the green buildings. You'll see your Tasting Room right up front as you approach our barn and milling area.
We love what we do
In our tasting room you can sample all of our olive oils for $10 per tasting, shop all our products, and learn about olive oil.
tour the tasting room
A farm for everyone
Our farm is a great place to visit for people of all ages, so by all means bring your kids.
Our facility is also handicap accessible, and vehicles carrying wheelchairs are welcome to drive all the way up to right in front of our Tasting Room.
We also welcome pets, and have a special enclosure area for our four-legged friends to enjoy themselves while you sample and shop.
Groups are welcome, though if you're more than a dozen or so, it's best to call us in advance to make sure we can accommodate you.
Enjoy the shade
in our two hundred year old olive grove